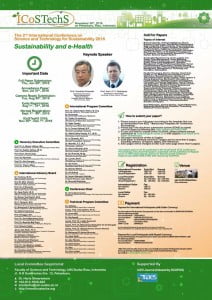 SKA Convention & Exhibition Center, Pekanbaru, Indonesia
30 November – 1 December 2016
Dear Professors, Researchers, and Practitioners,
It's a pleasure to invite you to submit your Paper to The 2nd International Conference on Science and Technology for Sustainability 2016 (ICoSTechS 2016), which will be held at the SKA Convention & Exhibition Pekanbaru, Indonesia during 30 November – 1 December 2016.
The theme of the 2nd ICoSTechS 2016 will be "Sustainability and e-Health"
Accepted Papers will be published in the ICoSTechS 2016 Proceeding, and Selected Papers will be published in Regular Issue of IAES International Journal of Electrical and Computer Engineering (ISSN 2088-8708) that indexed by SCOPUS.
The 2nd ICoSTechS 2016 will comprise of Information Technology, Mechanical and Industrial Engineering, Electrical Engineering, and Mathematic Sciences.
Important Dates : Paper Submission DEADLINE – June 30th, 2016
Please submit your paper via online system in https://www.edas.info/21969
Looking forward with your Full Paper Submission.
We also request your kindness to forward this Call for Paper to your colleagues/students as well.
Please email us for any questions to icostechs@uin-suska.ac.id
Looking forward to meet you in The 2nd ICoSTechS 2016, Pekanbaru, Indonesia.
Sincerely yours,
Chairman of The 2nd International Conference on Science and Technology for Sustainability 2016 (ICoSTechS 2016)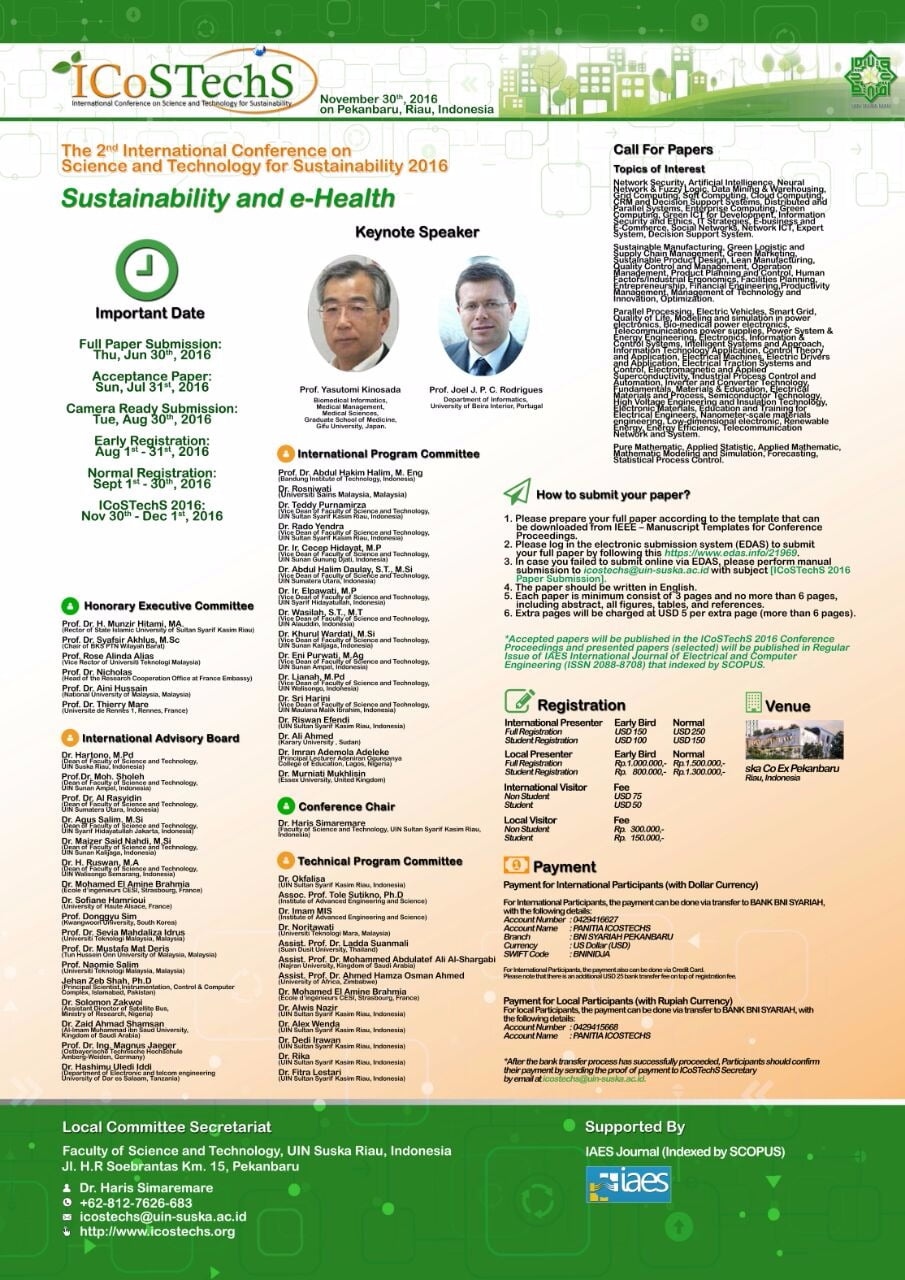 Related Posts